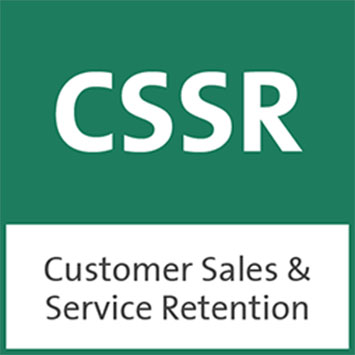 CSSR
Customer Sales and Service Retention (CSSR) is a dynamic lifecycle customer retention program, one of the Essential Brand Elements (EBE) required by dealers to qualify for GM EBE benefits. CSSR is based on a simple concept: Right Message, Right Customer, Right Time. The program leverages best-in-class practices and tailors them to your dealership's unique needs.
More
---
New for 2022, CSSR 4.0 offers you more choices. You'll have more choices and control over the packages, creative and channels your dealership uses and sends out.
We're introducing three CSSR package options. With the Enhanced and Elite packages, you'll have access to our new Dealer Design Tool — enabling customization for your CSSR communications by adding your own branding. We're also introducing Social as a new channel. Reach your customers online with ads and a landing page for your dealership. Combined with direct mail and email, it's a great way to further engage with your customers.
CSSR continues the multi-channeled approach using "smart logic," to offer a complete schedule that promotes your dealership as the go-to place for all of your customers' needs and future vehicle purchases. CSSR makes the important connections to help your team build relationships that create loyalty and translate into long-term success.
The CSSR core program reaches out to your customers soon after they have taken delivery of their vehicle and continues timed contacts, based on individual activity, for the first seven years of ownership. You also have the option to "Plus-Up" your communication schedule to extend beyond the seven-year ownership base.
CSSR utilizes vehicle data that reflects driving activity, as well as individual service activity from your dealership, to tell us the best time to reach customers with specific messaging and relevant offers. OnStar® Vehicle Diagnostics (OVD) data, as well as service habits and any available GM, DMS and customer data, are factors in targeting communications.
CSSR Benefits
Along with EBE benefits, your dealership will realize the many valuable rewards of CSSR, including:
Package Choice — Three levels of CSSR from which to choose
Dealer Choice Creative — Put your dealership's thumbprint on CSSR creative touches
Channel Choice — Direct Mail, Email, SMS/Text, Video and Online Advertising, and now the new Social Plus-Up, are all CSSR channels we can utilize based on the package selected to keep your dealership's name and message top of mind
Divisional, Certified Service and Dealership branding
Sales/Event/Vehicle Launch reinforcement messaging
Customer segmentation for highly targeted incentive offers
Detailed reports tracking your results, accessible online 24/7
iMR match-eligible Core Program and Plus-Up options that extend and add power to your core communications
Easy enrollment and program team support
Consistent and regular communications with your customers
Integration with key sales and service drivers:

OnStar®
GM Card
Playbook data and filters
Chevrolet, Buick, GMC and Cadillac Protection Plan
GM Financial
All-New My GM Rewards
GM Accessories